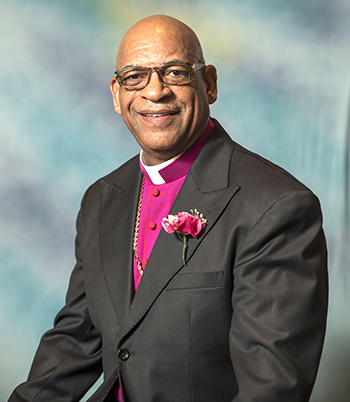 Greetings from The Life Center Church!
Ronald F. Kimble, Sr. is the Presiding Bishop of The Life Center Churches. He has served this thriving congregation for over 40 years.
Under Bishop Kimble's leadership, an array of ministries have been birthed, among which are The Life Academy, which serves K4-9th grade, a national television ministry (The Healing Touch) and H.E.L.P. Community Development Corporation.
Bishop Kimble received his Bachelor of Arts degree from United Bible College and has received training at additional schools and seminaries. In 2004, Bishop Kimble was conferred with a honorary Doctorate of Divinity degree by St. Thomas Christian College, Jacksonville, FL and a honorary Christian Doctor of Theology degree by Florida Christian University, Orlando, FL.
Under his Apostolic leadership, Life Center campuses have been planted in Ocala and Titusville, FL. He also oversees Glorious Harvest Life Center in Liberia, West Africa.
Bishop Kimble is married to Gwandria and is the father of three children, Ronald, Jr., Renee, and Rosalyn.
"Our church is totally committed to the Lordship of Christ and His mandate to go and make disciples. We believe in the life giving power of Jesus Christ and serve Him by reaching as many people as possible with the gospel."
For more information about Bishop Kimble, please visit www.rfkministries.org.
Bishop Kimble